China and Peru: The Past 50 Years of Relations, Projections and Perspectives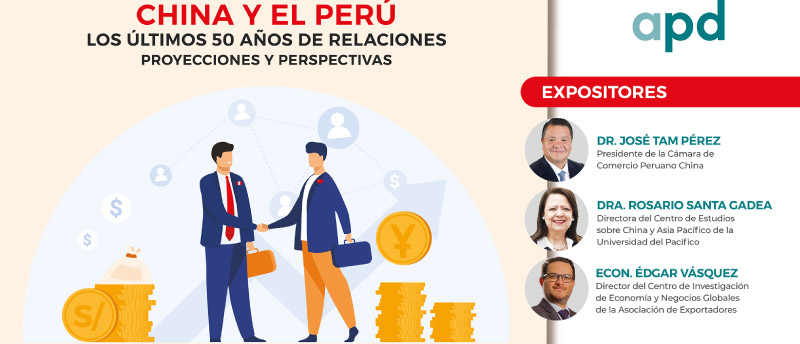 On July 22, 2021, the conference "China and Peru: The Past 50 Years of Relations, Projections, and Perspectives" was held by the Association for the Progress of Management (APD) Peru. Participating as speakers were Dr. José Tam, president of the Chinese Peruvian Chamber of Commerce (CAPECHI); Dr. Rosario Santa Gadea, director of the Center for China and Asia-Pacific Studies at the UP; and the economist Édgar Vásquez, director of the Center for Research on Global Economy and Business at the Association of Exporters (CIEN-ADEX). Dr. Santa Gadea's presentation, "The Belt and Road Initiative (BRI): Implications for Latin America and Peru," focused on the importance of the BRI.
Dr. Santa Gadea explained that because the basis of this initiative is connectivity, efforts should be focused on extending the 21st Century Maritime Silk Road to the Pacific. Along with more efficient maritime connectivity, good land connections are needed to reach the ports and production projects that are part of special economic zones or other instruments, with all their associated logistics networks.
A logical approach would be the establishment of one or more transpacific economic corridors, in which Peru could serve as the hub between China and South America. The strategy must be designed on clear foundations of viability and shared benefits. Chancay port, located 80 kilometers north of Lima, could be linked with industrial parks inside its area of influence and contribute to transforming the production infrastructure of both the capital and the central Peru in general.