The Center's Director participates in the 11th China–Latin America High Level Academic Forum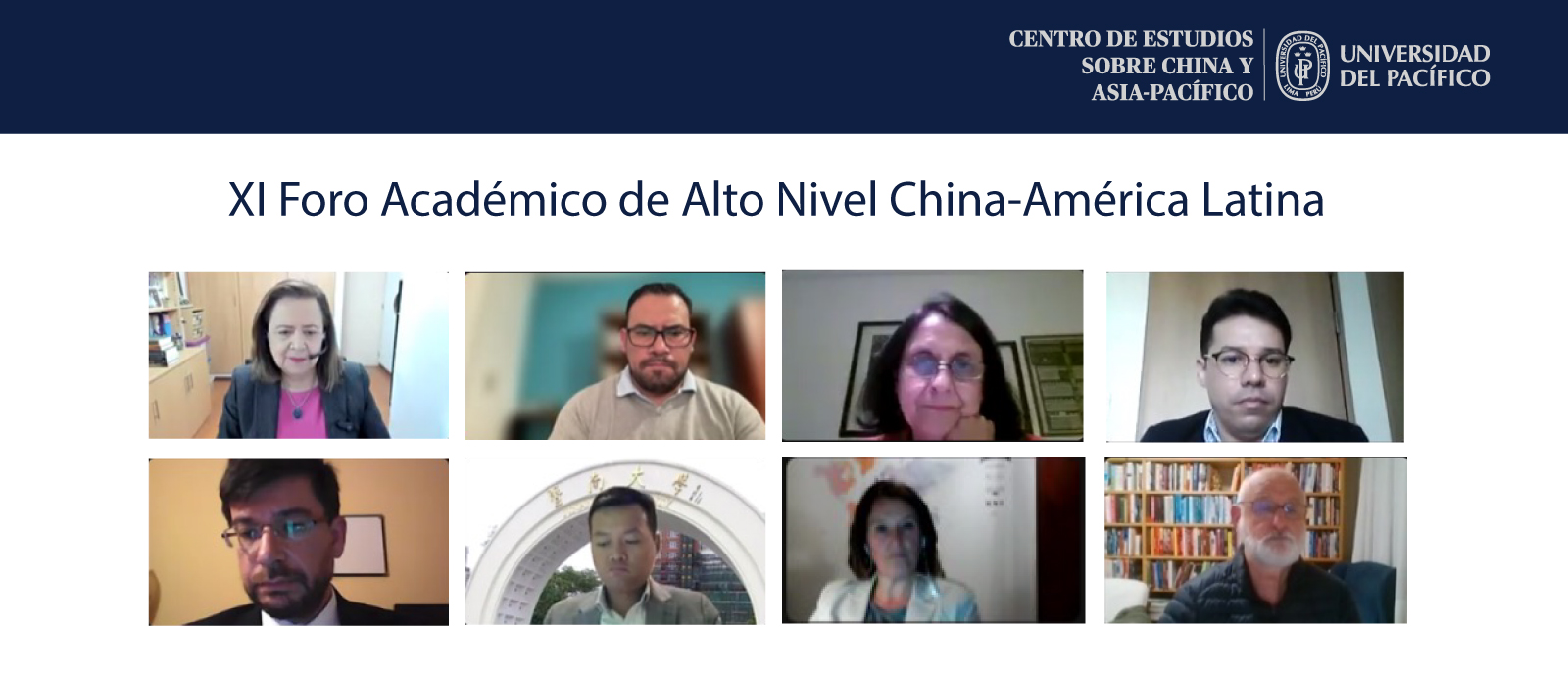 The 11th China-Latin America High-Level Academic Forum, entitled Current Events and Projections in Sino-Latin American Relations: Economic and Political Studies and Historical-Cultural Learning was held virtually on November 2 and 3, 2022. This event was organized by Universidad Nacional de Córdoba-UNC (the forum coordinator), the Confucius Institute at UNC, Universidad Nacional de La Plata, Universidad Estadual Paulista, Universidad Andrés Bello, Universidad de Santiago de Chile, and the Institute of Latin American Studies at the Chinese Academy of Social Sciences (ILAS-CASS). The Universidad del Pacífico is the only Peruvian university that participates in this network through its Center for China and Asia-Pacific Studies.
During the forum, four working sessions met. The first went under the title of "International Policy and Political Economy Studies," the second "The Diplomatic Policy of the People's Republic of China and the Outward Positioning of Latin American Countries," the third "Historical and Comparative Studies," and the last "Sino-Latin American Economic and Political Relations: Case Studies."
Dr. Rosario Santa Gadea, the center's director, took part in the third session where she presented her paper, "The Middle-Income Trap or the Challenges of Development: A Comparative Approach of China and Peru."  This paper is a synthesis of the conclusions chapter Dr. Santa Gadea presented in the book Finding a Way to Avoid the Middle-Income Trap: The cases of China and Peru (Zhang & Santa Gadea, Editores, 2021), which aims to advance mutual knowledge and belongs to a line of research that seeks to promote joint learning for development.
During her presentation, Dr. Santa Gadea explained that China and Peru share the characteristic of being middle-income economies. Next, she expounded on the concept known as the "middle income trap" and its causal factors. Then, she presented a comparison of the economic transitions undergone by China and Peru, as well as the process of opening-up to the world in both countries. She wrapped up her contribution with some comments on the challenges ahead and possible strategies for relations between China and Peru.