El Centro de Estudios sobre China y Asia-Pacífico realizó la primera "Serie de Talleres sobre Proyectos de Investigación"
7 November, 2022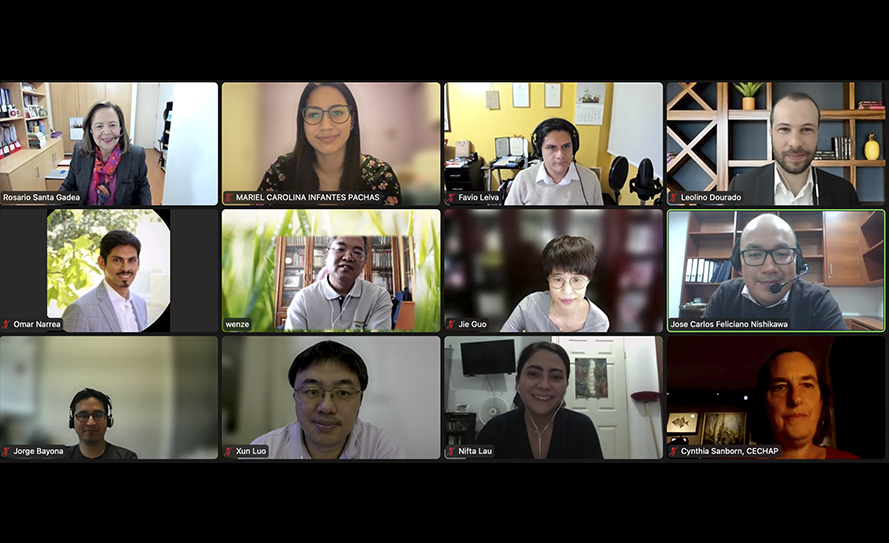 Durante los meses de junio y julio, el Centro de Estudios sobre China y Asia-Pacífico realizó la "Serie de Talleres sobre Proyectos de Investigación", un conjunto de encuentros académicos en los que se presentaron los resultados de los proyectos realizados por los investigadores afiliados del centro durante el año 2021 y parte del 2022. El propósito principal fue sostener reuniones de trabajo entre los investigadores afiliados y expertos chinos, a fin de difundir los hallazgos y resultados de los estudios, intercambiar opiniones y recibir sus comentarios para futuras investigaciones, promoviendo de esta manera el intercambio de conocimientos.
Sobre los talleres 
El 16 de junio se presentó el estudio "New Strategies to explain organizational resilience on the firms: A cross-countries configurations approach (China and Central America firms)» de los profesores Jorge HEREDIA y Alejandro FLORES del Departamento Académico de Administración de Empresas, teniendo como comentaristas a los profesores LUO Xun de Tianjin University of Technology y JING Ran de University of International Business and Economics.
El 23 de junio, en el segundo taller, se presentaron dos estudios, el primero "Ports and special economic zones in Asia: What can we learn for the case of the Chinese investment in the Peruvian port of Chancay and its future role in the transpacific route?» del profesor Omar NARREA teniendo como comentarista al profesor WAN Guanghua de Fudan University. El segundo estudio denominado "China-backed infrastructure in the Global South: Lessons from the case of the Brazil-Peru transcontinental railway project" fue presentado por el investigador afiliado Leolino DOURADO y los comentaristas fueron el profesor XIE Wenze del Institute of Latin American Studies (ILAS), Chinese Academy of Social Sciences (CASS) y la profesora GUO Jie de Peking University.
El 30 de junio se realizó el tercer taller "Volatility spillovers from the United States and China to Latin American stock markets» y fue el turno de los profesores Diego WINKELRIED y Walter BAZAN del Departamento Académico de Finanzas. Como comentaristas participaron el profesor CHEN Sichong de Zhongnan University of Economics and Law y el profesor LIU Zhiqin de Renmin University of China.
El 7 de julio se llevó a cabo el cuarto taller de esta serie y se presentaron dos estudios. El primero denominado "China's diplomatic outreach to Latin America: The growing influence and strategic mobility of Beijing's ambassadors» por el investigador afiliado el Dr. Benjamin CREUTZFELDT y, como comentarista, el Dr. NIU Haibin de Shanghai Institutes for International Studies (SIIS). Por su parte, los profesores Martín MONSALVE del Departamento Académico de Humanidades y Patricia PALMA de la Universidad de Tarapacá, Chile, presentaron el estudio "Migration and Chinese firms in the South Pacific: A long term vision" y como comentaristas se contó con el Dr. LAI Yuan de Shanghai Institutes for International Studies y la Dra. Nifta LAU, quien se unirá al centro como investigadora postdoctoral.
El 14 de julio finalizó este primer bloque de talleres con la presentación del estudio "The utilization of trade preferences under the Peru-China Free Trade Agreement" a cargo de los profesores Antonio CUSATO y Jorge CHÁVEZ, del Departamento Académico de Economía, teniendo como comentaristas al profesor ZHOU Mi, del Chinese Academy of International Trade and Economic Cooperation (CAITEC) y la profesora YUE Yunxia del Institute of Latin American Studies, Chinese Academy of Social Sciences (CASS).
En los 5 talleres realizados se han presentado los resultados de siete proyectos de investigación apoyados por el Centro en una variedad de temas, como son:
Innovación a nivel de empresa.
Inversiones chinas emblemáticas en infraestructura como el puerto de Chancay en Perú y el caso fallido del proyecto ferroviario transcontinental Brasil-Perú.
Efectos indirectos de la volatilidad financiera de China y EE. UU. en el mercado de valores de América Latina.
El alcance diplomático de China en América Latina.
Migración y empresas chinas en el Pacífico Sur.
El uso de las preferencias arancelarias en el TLC entre Perú y China.
Algunos de los trabajos finales serán publicados en la Serie de Documentos de Trabajo del Centro, y por lo tanto estarán disponibles en su sitio web (https://www.up.edu.pe/investigacion-centros/centros-up/centro-estudios-china-asia-pacifico/Paginas/default.aspx), otros serán presentados para su publicación posterior en revistas académicas y dos de ellos ya fueron publicados. En algunos casos, los proyectos de investigación continuarán por un segundo año para una mayor profundización de los temas de estudio.
Próximos pasos 
En el mes de septiembre se continuará con esta primera "Serie de Talleres sobre Proyectos de Investigación" con la presentación de otros dos estudios realizados en el 2021, uno relacionado a logística y otro acerca de capacidades tecnológicas en la Universidad del Pacífico. Asimismo, el próximo año se organizará una nueva serie de talleres con la presentación de resultados de los estudios que se vienen realizando en el 2022.