Contributions to the Agenda of Relations Between Peru and Asia-Pacific in the 21st Century
Description:
This conference paper, published following the 2021 Center for China and Asia-Pacific Studies and Peruvian Network for Asia-Pacific Studies Conference on July 8 and 9, 2021, summarizes the 17 presenters' analyses and proposals on Peru's inclusion in the Asia-Pacific region.  The distinguished presenters included ministers of foreign affairs and of foreign trade of tourism (government), the general manager of COMEXPERU (business sector), and 14 professors and academics from the REDAP member universities (academia). In the context of Peru's independence bicentennial celebrations, this publication contributes ideas and reflections on the country's place in the global economy in general and the Asia-Pacific region in general
Participating institutions:
Center for China and Asia-Pacific Studies
Peruvian Network for Asia-Pacífico Studies
Main researchers:
Results: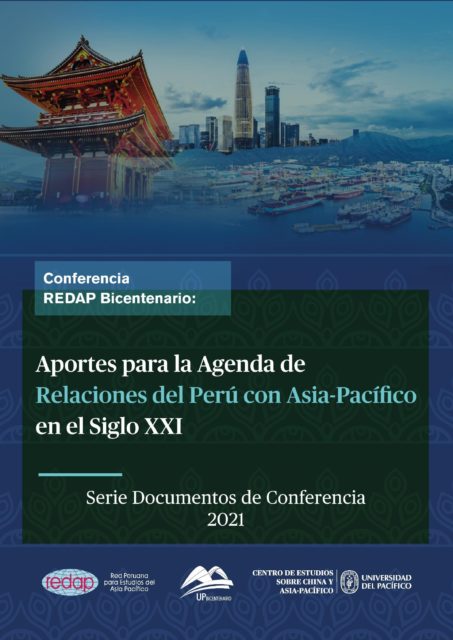 Centro de Estudios sobre China y Asia-Pacífico de la Universidad del Pacífico, y Red Peruana para Estudios del Asia-Pacífico (2021). REDAP Bicentenario: Aportes para la Agenda de Relaciones del Perú con Asia- Pacífico en el siglo XXI (No. 2021-1; Conference Document Series of the Center for China and Asia-Pacific Studies at Universidad del Pacífico).