Director of the Center was part of the Conference Cycle of the China-Mexico Studies Center (CECHIMEX)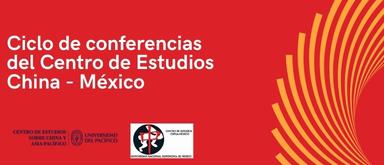 On November 24, 2021, Dr. Santa Gadea gave a presentation during the Conference Cycle of the China–Mexico Studies Center (CECHIMEX) at Universidad Nacional Autónoma de México. Her presentation, titled "China and Asia-Pacific in Globalization: Trends and Opportunities for Peru," sought to contribute insights about China's transformation, future direction, and international economic strategy, with a focus on its development experience.
China has been the main trading partner of 40 countries, and the second-biggest partner of many others. With regard to its exports, the country has been the foremost supplier for 72 countries. In 2020, while global GDP fell by 3.1%, China grew at a rate of 2.3%—making it the only major economy to have posted positive figures. In addition, the country is en route to consolidating itself as a net investor in the world.
The structure of Peruvian exports to Asia-Pacific is concentrated on raw materials. Dr. Santa Gadea showed an estimate of Chinese investments in Peru, focused predominantly on mining and energy. However, she noted that there has been a rise in accumulated investments in infrastructure, by way of various mechanisms. Given the relocation of manufacturing production between Northeast and Southeast Asia, Peru has the opportunity to learn about the process and better integrate into global value chains.
How can the development to which China aspires drive development and structural change in Peru? Peru's strategy in the Belt and Road Initiative must be defined through the establishment of a Peru–China transpacific corridor. Peru could become the anchor for such a corridor through investment in the port of Chancay; this could be considered an expression of the Belt and Road in Latin America, as the port will connect the country with other ports in Singapore, the Republic of Korea, China and elsewhere.
Finally, Dr. Santa Gadea concluded by noting that there are benchmarks in Asia-Pacific that Peru can learn from on its path to development, while stressing the need to renew Peru's cooperation agenda with that region. The goal should be to promote sustained economic growth and improve infrastructure and logistics, skills, ICT implementation, innovation, and the digital economy, among other areas.