Peru–China Business Webinar: Five Decades of Friendship, Achievements and Challenges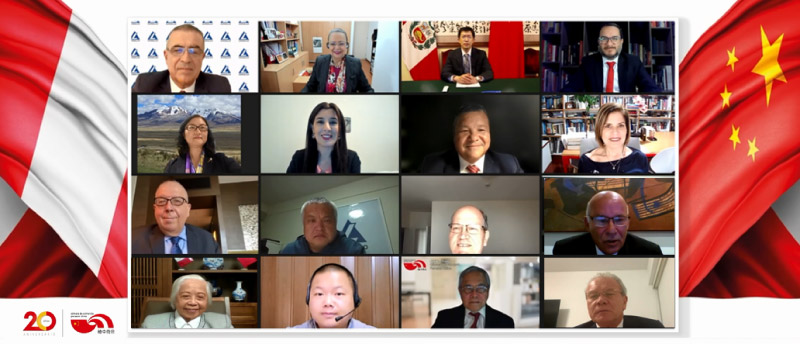 The Chinese–Peruvian Chamber of Commerce (CAPECHI), of which the Universidad del Pacífico is a member through its Center for China and Asia-Pacific Studies, held the business webinar "Peru–China: Five Decades of Friendship, Achievements and Challenges " on November 4, 2021. The event was attended by the Ambassador of Peru in China, Luis Quesada; and the Ambassador of China in Peru, Liang Yu. Also present were CAPECHI general manager Teresa Joo; Óscar Maúrtua, Peru's current minister of foreign affairs; former ministers Mercedes Aráoz, Eduardo Ferreyros, and Edgar Vásquez (all of Foreign Trade and Tourism) and Gonzalo Gutiérrez (of Foreign Affairs); and Tao Fenghua, President of the Association of Chinese Companies in Peru.
Dr. Rosario Santa Gadea gave a presentation entitled "China–Peru in the international context: topics for the future agenda." Not only is China the world's leading exporter, but Chinese investment is prominent and the country is now a net international investor. China is the main export destination for 40 countries, and is the second-biggest destination for many others. This makes it one of the main engines of global growth. As a supplier, China is the main source of imports for 72 countries, including most of South America. This corresponds to China's ongoing transition to a product design and creation model, and its progression through global value chains.
China represents 48% of global copper demand and 25% of global gold demand. Copper exported to China accounts for 67% of Peru's exports to that country, and China is one of the main investors in Peruvian mining. However, transforming the traditional pattern of bilateral economic relations is an ongoing challenge for our country. Peru must improve its knowledge about the Belt and Road initiative if it is to join a Peru–China trans-Pacific economic corridor based on a long-term vision. We need to understand the process of transformation of the Chinese economy, and identify improvement opportunities. In this regard, the port of Chancay represents a good starting point.