REDAP Bicentennial Conference: Contributions to Peru's Relations Agenda with Asia-Pacific in the 21st Century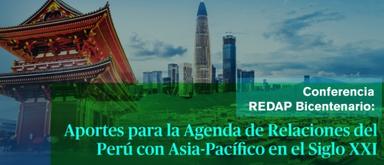 The Peruvian Network for Asia-Pacific Studies (REDAP for its acronym in spanish), coordinated in 2021 by Universidad del Pacífico, held the REDAP Bicentennial Conference "Contributions to the Agenda for Peru's Relations with Asia-Pacific in the 21st Century " on July 8 and 9, 2021. The event, which was streamed online and featured 17 pre-eminent speakers, was established as a space for contributing to the success of Peru's agenda and strategy with regard to this region.
The conference sought to promote dialogue and synergies between academia, business, and the public sector. Thus, in addition to the presentations by representatives of the REDAP member universities, there were three special conferences led by ministers of state and members of COMEX Peru.
The 17 presentations over the two dates were grouped into six thematic categories: "Multilateralism and international inclusion of Peru in Asia-Pacific," "Potential of trade integration in Asia-Pacific: Peru's sectoral challenges vis-a-vis Asia-Pacific," "Peru's challenges in Asia-Pacific: 21 years in APEC," "Appraisal and business perspectives on Asia-Pacific: The relationship with Asia-Pacific in engineering and public health," and "A focus on the regions of Peru."
Attendees included government officials, members of the diplomatic corps and international organizations, businesspersons and representatives of business associations, university professors and students, think tank members, and others, all of whom took the opportunity to reflect on the importance of Peru's inclusion in the global economy and its relationship with the Asia-Pacific region.