Students from REDAP universities contribute to MINCETUR study on Technical Barriers to Trade in APEC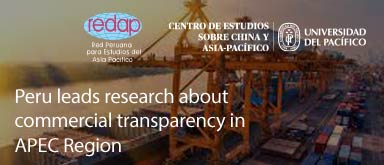 The quality of the information provided by trade partners is essential for international business management. As part of the academic contribution to the development of policies aimed at bolstering trade relations between the economies of the Asia-Pacific Economic Cooperation forum (APEC), the Peruvian Network for Asia-Pacific Studies (REDAP)—under the leadership this year of the Universidad del Pacífico through its Center for China and Asia-Pacific Studies—participated in the "Study on the Transparency of Technical Barriers to Trade (TBT) Notifications in the APEC Region" organized by Peru's Ministry of Foreign Trade and Tourism (MINCETUR).
Within the framework of the the World Trade Organization (WTO) TBT Agreement, this initiative analyzes the information provided by APEC economies about technical regulations, standards, and procedures in order to assess the conformity of notifications.
As part of the project, 170 volunteer students from REDAP's member universities received training on the scope of the TBT Agreement and its transparency provisions. Their contributions will aid the MINCETUR study in improving the quality of the information that APEC economies provide on TBT notifications, thereby promoting good practices and technical assistance opportunities.