The Center for China and Asia-Pacific Studies took part in the "50 Years of Diplomatic Relations between Peru and China Conmmemoration" organized by ADP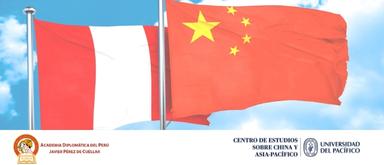 The Diplomatic Academy of Peru "Javier Pérez de Cuellar" commemorated the 50th Anniversary of the establishment of Diplomatic Relations between China and Peru with a ceremony with the participance of the main representatives of the diplomatic corps, business associations and academics dedicated to the study of the relations between both countries who were invited to express their opinions and reflections.
Dr. Rosario Santa Gadea, Director of the Center for Studies on China and Asia-Pacific, took part in a round table with distinguished specialists from the most recognized universities of the country, who answered some relevant questions posed by the Director of the Diplomatic Academy of Peru, the Ambassador Gustavo Meza-Cuadra.
"Initially there were 6 economic corridors, and by 2019 there were already 35, more than half are inter-Asian and within these, almost half involve Southeast Asian countries. We consider important to know how these economic corridors function between China and the countries of Southeast Asia, which include middle and high-income economies, in order to identify good practices and risks to avoid for the implementation of BRI in Peru ", explained Dr. Santa Gadea.
Likewise, during her presentation she suggested that the most relevant issues of China's economic transformation should be taken into account for Peru's future agenda, referring to the book "Finding a Way to Avoid the Middle Income Trap: the Cases of China and Peru", a publication edited by the Center for China and Asia Pacific Studies and the Institute of World Economics and Politics (IWEP) of the Chinese Academy of Social Sciences (CASS). From this comparative research, she highlighted issues such as the economic transition in both countries and the different characteristics of their resulting industrial structure, the pattern of economic openness followed by China and Peru that determines the benefits they receive from globalization, the challenges of balanced economic development between coastal and inland regions of both countries, the huge investments in infrastructure in China and the existing gap in Peru, among others.