The Center is part of the 10th Asia-Pacific International Conference in Poland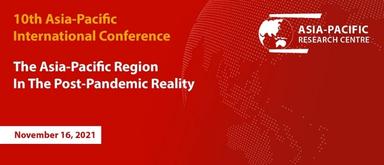 Mario Chong, Research Affiliated of the Center for China and Asia-Pacific Studies, participated in the 10th International Asia-Pacific Conference, organized by the Asia-Pacific Research Centre at the Wroclaw University of Economics and Business in Poland, which focused on the Asia-Pacific region in the post-pandemic reality on November 16th 2021.
The event was attended by various authorities and diplomats, as well as academics and scientists from Japan, Vietnam, and Poland. Representing the center, Dr. Chong gave a presentation on "A Methodology for Managing Public Spaces to Increase Access to Essential Goods and Services by Vulnerable Populations During the COVID-19 Pandemic," which addressed the importance of public spaces for the distribution of food staples and other basic necessities in the context of social distancing.
"In response to the pandemic, governments around the world imposed severe restrictions such as lockdowns, social distancing, and reduced the capacity of public establishments. This presentation proposes a decision support system focused on the administration of public spaces to distribute consumer staples and services during mandatory confinement," explained the researcher.
To map out safe areas and low pedestrian density, Dr. Chong used a method known as the Sloan Digital Sky Survey (SDSS). This strategy consists of an investigation into public space using images captured by a specific wide-angle telescope. Through this system, it was possible to formulate key indicators and identify bottlenecks to facilitate decision-making by the authorities involved in the management of collection points for food staples and basic necessities, and thus expand the impact of the project.